In Memory
Douglas Ashby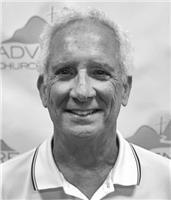 Douglas K. Ashby, 72, of Yuba City, CA, passed unexpectedly on Monday, March 09, 2020. He was born July 16th, 1947, in Honolulu, HI, went to Middlebury College in Vermont; Stanford Law School and was a retired Attorney. He had been a resident of the Yuba Sutter area for 47 years. He was a well respected member of the legal community for 39 years, Chairman of the Board at Adventure Church, Captain in the US Army, retired in 1977.

Nothing was more important to Doug than family and he made sure each one of them knew it.

He is survived by his high school sweetheart, loving wife and best friend of 47 years, Joan; sons, Daniel, David (Gina), Peter (Jessica), and Paul (Schea); eleven grandchildren; brother, Larry (Jean); and sister, Susan (Jon). In addition to his immediate family, he had countless people who called him "Pops."

He is preceded in death by his parents, Richard and Barbara Ashby.

Pops loved life. His favorite slogan was "life is good" and he lived it every day. He was happiest when he was outdoors. His interests included hiking, skiing, x-country skiing, fishing, camping, golfing, kayaking and baseball. He enjoyed music and playing his guitar with multiple music groups throughout his life. He also loved to spend time in Graeagle, Stinson Beach, Bandon Dunes, at Peach Tree and in Maui. Lastly, and perhaps most importantly, Pops loved to go to church and we are sure he is playing his guitar in the worship band in heaven.

Pops had a passion for people and intentionally connected with them in their everyday lives. He modeled his life after this scripture: "I have become a servant of everyone so that I can bring them to Christ. I fit in with them as much as I can. In this way, I gain their confidence and bring them to Christ. I try to find common ground with everyone so that I might bring them to Christ. I do all of this to spread the good news, and in doing so, I enjoy its blessings. -1 Corinthians 9:19-23.

A Celebration of Life will be held Friday, March 20th, 2020, at 1 pm at Hope Point Nazarene Church. In lieu of flowers, Pops would ask you to extend grace to others and "finish strong."
https://www.legacy.com/obituaries/appealdemocrat/obituary.aspx?n=douglas-k-ashby&pid=195679709&fhid=7528