In Memory
David M. Ireland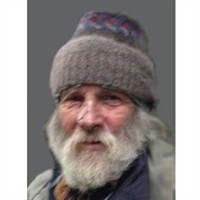 David's obituary:
David M. Ireland was born in Boston, MA on October 6, 1947, the first child of Elwood and Joan Ireland. David had four siblings, a sister Jane of Fairfield, CT, and three brothers, John and Doug of Oakland, CA and Woody of Boulder, CO. The family grew up in Fairfield, CT.

He was an excellent student, a fine athlete and an accomplished musician excelling on the piano and the guitar. David was so far ahead of his fourth grade class that he became the only child to skip a grade in the 35 year history of his elementary school. David graduated from Loomis School in CT and attended Middlebury College in Vermont. He served in the US Navy before being medically discharged.

David was separated from his family and many loved ones by time and circumstance but they remained close in his heart and memory. David loved and lived in the natural elements since his discharge from the Navy. Year round he made camp in the woods and procured what he needed in terms of clothing and supplies to survive the elements. He lived remotely in the Queen Charlotte Islands and rural Washington including Bellingham, Port Townsend, Republic and Twisp.

David was a prolific poet and narrative writer, continued to read and had a keen intellect. David's life took many unexpected turns but God in His goodness and divine providence used these difficulties for the good of his soul. David loved God and His creation. It was through the beauty of nature that he felt united most closely to God. David had a special devotion to the Blessed Virgin Mary and through her intersession, in the midst of his own hardships, prayed daily for the suffering in the world.

David has two sons. Jesse was born in Victoria, British Columbia, the oldest son whose mother is Carol. Cairn was born in Haida Gwai, British Columbia and currently lives in B.C., Canada. His mother's name is Anne. David is survived by his mother and four siblings. He is remembered in our hearts with great love and respect.
http://www.westfordfuneralhome.com/obituaries/David-Ireland/#!/Obituary